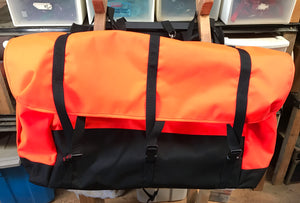 2023: Sadly, these great panniers are no longer being made. We're trying to find another source.
Well-made, versatile, and spacious, these panniers are constructed from heavy-weight, coated Cordura nylon fabric, reinforced in wear areas with even stronger Cordura Ballistic fabric. The large main compartment is made from a single, wrap-around piece of fabric, forming the top flap, back, bottom and front, so there are no structural seams except at the end gussets. An internal aluminum stay across the top distributes the weight, while an inner pad protects the llama from pannier contents. The compartment closes with adjustable flaps and wrap-around straps that both support and compress the load. At each end, the pannier has a large exterior pocket with a heavy-duty, full-length zipper. Panniers are suspended from the saddle frame by adjustable straps. There are two additional straps on each pannier for strapping longer or rigid gear (such as tent poles or rolled-up foam pads) on top, and these can also be fastened together to form a shoulder strap. Timberline's panniers may be used with other frame-type pack saddles.
Approx dimensions 22"x16"x8" not including end pockets
Colors: Red, Green, Blue, Orange

Set of two panniers includes top straps, breast strap, and britching.