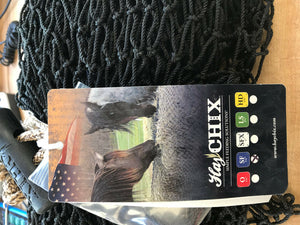 Tame your large round bales and get at least 90% of hay out of every bale with the Hay Chix 6' Large Bale slow feed hay net! With less hay waste, you'll save both time and money.
Use in the field, pasture, paddock or with a feeder like the Hay Hut, Bale Barn, Century Livestock Feeder, AGI Feeder, Priefert Feeder, Tartar Feeders, etc.  
The Large Bale Net 6' will fit up to a 6' x 6' foot bale, as well as smaller bales such as 4' x 5' or 5' x 5' bales. (Using a 6' net on bales this size will not cause safety issues or impede your animal's ability to eat from the net.) 
This net will also fit large square bales: 4' x 4' x 8' and 3' x 3' x 9' in size.
3 mesh sizes:
1 inch Extreme Slow Feed.  For very overweight horses or llamas, also works for sheep.

1 1/4 inch Slow Feed. For easy keepers.
1 3/4 inch Original Size.